Community Room
The Pam and Warren Barry Community Room has become one of the premier meeting spaces in downtown Dayton.
It is a spacious, well-lit room with convenient parking that is free for businesses and organizations to hold meetings. The ultramodern space is named for our founders Pam and Warren Barry, whose commitment and passion for Dayton was the driving force behind the room. We have 100 parking spaces, seating for up to 80 guests and we're only a stone's throw from I-75. We are excited to offer the room free of charge. Please note that our community room is not available on weekends.
Want to know what people think of our Community Room? Take a look at our testimonials here.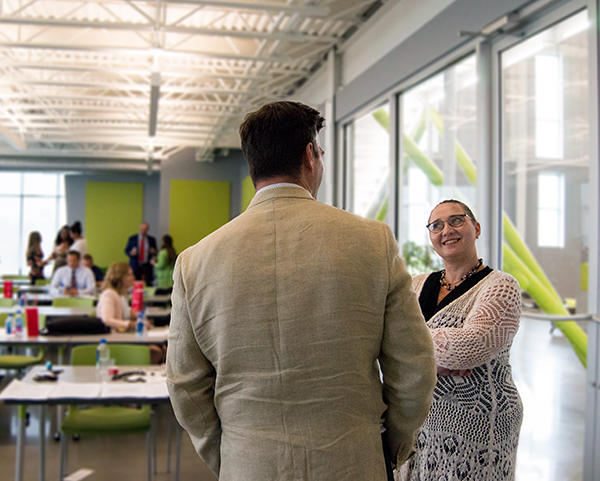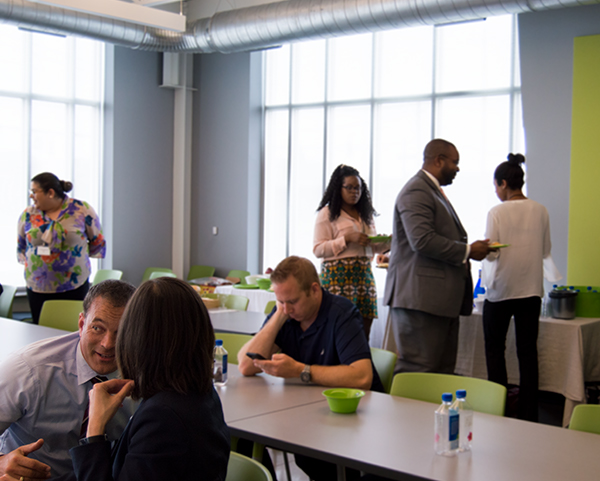 Groups that have used the room:
AXA Advisors
AFS-USA
Acco Brands
American Cancer Society
Better Business Bureau
Caresource Life Services
Carter & Cline
Center for Biblical Entrepreneurship
CodePen Dayton
Dayton Area Chamber of Commerce
Dayton Dragons
Dayton Area Rugby Club
Dayton-Montgomery County Scholarship Program Counselors
Dayton Essential Oils
Dayton Law of Attraction
Dayton Performing Arts Alliance
Dayton Mediation Center
Dayton Region Manufacturers Association
Delta Sigma Theta
Ernst Concrete
E3 Services
Greater Dayton Premier Management
Green Thumb Garden
Human Relations Council
Humane Society of Greater Dayton
IFMA of Dayton
MCRP
Merchants Security
Mo Better Me
Miami Conservancy District
Montgomery County Republican Party
Midwest Iron & Metal Co.
Montgomery County Workforce Investment Board
Montgomery County Genealogy
Ohio Valley Construction Education Foundation
Ohio River Road Runners Club
New Concepts Management Solutions
The National Conference for Community and Justice of Greater
Dayton (NCCJ)
Ohio Means Jobs (Montgomery County)
PNC Bank
Premier Health
Pregnancy Wellness Resource Services
Progressive Printers
Puerto Rican American and Caribbean Organization (PACCO)
Real Art
Shakena's Gallery
Savvy Health Coaching
Startup Grind Dayton
Team Red, White and Blue
Wright State University Nonprofit Leadership Alliance
Workforce Development (Montgomery County)
Please check the calendar for availability and fill out the form below to schedule your next meeting.
NOTICE: THIS IS A PLACE FOR UNOBTRUSIVE, CONSTRUCTIVE BUSINESS MEETINGS. THE COMMUNITY ROOM'S EVENING HOURS ARE LIMITED. EVENING REQUESTS WILL BE CONSIDERED ON A CASE-BY-CASE BASIS. THEY WILL BE BOOKED WHEN STAFF CAN BE PRESENT.

BARRYSTAFF HAS A PULL-DOWN SCREEN FOR GROUPS TO USE BUT DOES NOT PROVIDE A PROJECTOR OR LAPTOP.
Community Room Reservation Request