Machine Operator (Miamisburg, OH)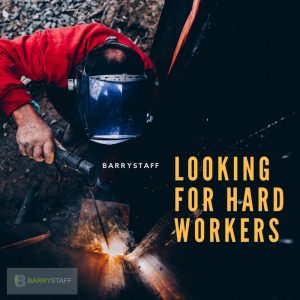 PAY: $10.00
SHIFT HOURS: Scheduled hours are 6am-4:30pm. More hours may be required during the peak season. (First week 7am – 3:30pm- Please arrive by 6:45A.)
DRUG TESTING: A drug test will be required at the end of your probationary period. You will also be required to have a complete physical before you are hired permanently.
ATTENDANCE POLICY: If you are going to be late or miss work, you MUST call Barry Staff, Inc. @ 461-9732. You will be allowed 2 absences and 2 tardies in your first 90 days. If you exceed the attendance standard, your assignment will be terminated.
JOB DESCRIPTION: This company supplies fan shafts for heating, ventilating and air conditioning manufacturers. You will be trained to grind, deburr, run a horizontal mill or cut off machine, pack parts and do material handling. This is HEAVY, PHYSICAL WORK! You must be able to lift up to 70 lbs.
DRESS: Jeans, t-shirts are fine. LEATHER WORK BOOTS ARE REQUIRED! If you show up in tennis shoes, hiking boots, etc., you will be sent home!
LUNCH & BREAKS: Pack your lunch (1/2 hour) and something for your 15 minute morning break. OEM has NO food machines, just a beverage machine. There are no fast food places close by. They do have a frig & microwave.
About BARRYSTAFF:
The job search can be a pain. That's why we're here.
BARRYSTAFF has been putting people to work for over 30 years and remains the most successful locally-owned staffing agency in Dayton. With offices in Dayton, Piqua and Springfield, we specialize in industrial, clerical, and permanent placements. If you are looking for a new career, or if you are an employer looking for new talent, you are in the right place.
Welcome to BARRYSTAFF. Let's go to work.
Job Type: Full-time
Salary: $10.00 /hour
Click here to apply via Indeed.com
You can also email your resume to a BARRYSTAFF recruiter at