Punch Press Operator (Springfield, OH)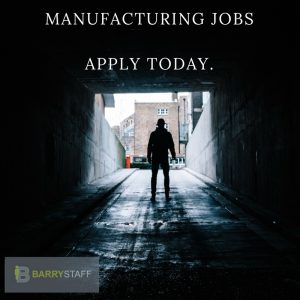 Job Description:
Punch press operators produce parts from metal, plastic or other materials using a punch press, a computer numeric controlled (CNC) piece of equipment that makes precision cuts, grinds and punches into metal, plastic, composite or other material.
Hours: 2nd shift 4PM to 230AM (will pay up to $15 an hour based on experience)
What You'll Need:
At least 1 year of related experience
Must be able to lift up to 50 pounds
Must be comfortable working in a hot environment
About BARRYSTAFF:
The job search can be a pain. That's why we're here.
BARRYSTAFF has been putting people to work for over 30 years and remains the most successful locally-owned staffing agency in Dayton. With offices in Dayton, Piqua and Springfield, we specialize in industrial, clerical, and permanent placements. If you are looking for a new career, or if you are an employer looking for new talent, you are in the right place.
Welcome to BARRYSTAFF. Let's go to work.
Job Type: Full-time
Salary: $15.00 /hour
Click here to apply via Indeed.com
You can also email your resume to a BARRYSTAFF recruiter at