Turning a brownfield site into a sparkling technology-focused business park hasn't been easy, quick or even cheap. But city of Dayton officials say they've more than turned the corner on the $30 million Tech Town business park along the city's Monument Avenue river corridor.
After more than a dozen years, the three-building development is filling up and branching out, with private companies putting their own money into relocating near the campus, which counts as its neighbors Fifth Third Field and the emerging Water Street commercial project.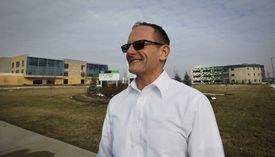 The Tech Town business park is slowly gaining momentum. In September 2012, Tech Town's building 3 stood empty, nearly a year.
Tech Town's newest building, which took more than two years to find its first tenant, is now more than half occupied and emerging as a health care industry cluster, said Steve Nutt, senior vice president for CityWide Development Corp.
New development around Tech Town includes the $1.5 million BarryStaff headquarters construction project, GoHypersonic Inc.'s $500,000 wind tunnel lab, and Proto BuildBar, a creative and technology experience center on East First Street.
The later phases of the $33.5 million mixed-use Water Street development will abut the Tech Town campus on Webster Street.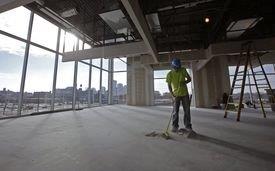 The Tech Town business park is slowly gaining momentum. In September 2012, Tech Town's building 3 stood empty, nearly a year.
"I would argue that because we've cleaned the site up and because we've got good, high-paying jobs on campus, other folks want to be close to us," Nutt said.
Dayton Assistant City Manager Shelley Dickstein said the activity validates the city's strategy when it sought Clean Ohio Fund dollars to redevelop a blighted industrial site "and make the area more attractive to receive investment."
The 30-acre Tech Town site is located where the former General Motors and Harrison Radiator plants once stood. Nutt said the$30 million cost for the park included acquisition, demolition, environmental remediation, infrastructure and construction.
The first building, the Entrepreneurs Center at 714 E. Monument Ave, opened in September 2000. Building II at 711 E. Monument Ave. opened in the spring of 2009, and Building III at 241 N. Taylor St. opened in October 2011.
The three buildings total about 110,000 square feet of space and are home to 45 companies with a combined 375 employees.
Buildings I and II are nearly 100 percent occupied; Building III is now 52 percent occupied, Nutt said.
Opening Building III in the wake of the economic recession "made things really difficult" in terms of leasing, Dickstein said.
In recent months, automotive dealership software company Autosoft and the Mathile Institute for the Advancement of Human Nutrition both relocated to Building III. In early 2014, Dayton Children's Hospital relocated its information technology department and about 100 employees to Building III.
Nutt said there are other prospective tenants for Building III, but declined to name them.
"We are working with a very strong potential economic engine for Tech Town that would be a large user," Nutt said. He anticipates Building III being close to full occupancy by mid-2016, if not sooner.
Aerospace and defense technology companies were an early focus for Tech Town. However, CityWide has expanded its focus to include medical technology because of federal defense spending cuts and the strength of the region's health care industry.
"Listening to the marketplace, there is a lot of opportunity for taking the technologies that have evolved out of Wright-Patt and out of the defense sector and making applications in the medical space. That is what we are pursuing right now," Nutt said.
Tech Town's mission limits tenants to technology-related businesses to create a collaborative environment that leads to innovation and the commercialization of new products and technologies.
The approach allows researchers to share ideas with counterparts from different technology focus areas, said Jeff Hughes, president of Tenet3 LLC, a cyber security analytics company with four full-time workers and one intern at Building II.
"Being in close proximity to collections of startups, where folks are excited and energized about the work they are doing, you naturally get a chance to talk shop, and compare and contrast ideas. That helps you refine things in your own business practices," Hughes said.
The city's plan for Tech Town includes 10 to 12 buildings with 2,000 jobs, built mostly with private money.
Buildings II and III were built on spec, meaning tenants were not identified prior to their construction.
Dickstein said there are no plans for additional spec development at Tech Town, which was done to "seed" the market. "We are looking to build on the private investment," she said.
CityWide is starting to market campus outlots, primarily along Monument Avenue, to developers or businesses, provided the users are technology-oriented, Nutt said.
BarryStaff's new facility next to The Entrepreneurs Center will give that company access to Tech Town's small business incubators, which might benefit from Barry's staffing or human resources services, said Doug Barry, company president.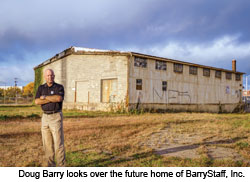 "There is an energy over there now, there is an excitement that there are new things going on and it's getting attention across the region. I think that is going to help draw more businesses and more people down to that area and to downtown," Barry said.
The Proto BuildBar that opened in October complements Tech Town with its 3-D printing lab and electronic maker space, providing workers with a creative space for meetings or brainstorming sessions, said owner Chris Wire, president of the adjacent Real Art Design Group on East First Street.
The Tech Town area "is turning into a magnet or a catalyst for creativity and innovation in the region. Once that ball gets moving, I think it will attract more and more people in that space and then it becomes an unstoppable thing," Wire said.