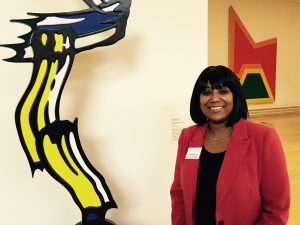 The Dayton Art Institute will celebrate its centennial in 2019.
Back in 1919, the museum was located in a house at Monument Avenue and Saint Clair Street. It quickly outgrew that space and its current building opened in 1930, thanks to the generosity of arts patron Julia Shaw Carnell.
It wasn't exactly smooth sailing, though, with the building opening during the depths of the Great Depression. The director, Siegfried Weng, needed to do whatever he could to bring people inside the museum during the '30s and '40s. He promoted The DAI as "Dayton's Living Room" to entice the public and even brought in a small menagerie of animals ("Weng's Zoo") that included peacocks, donkeys, parrots and even a monkey.
Today, the museum sees about 130,000 visitors a year. There are over 26,000 pieces of art in its collection, with about 1,000 on view in the galleries. As it gears up for its 100th anniversary, one woman will definitely play a role in planning for the celebration.
"Our leadership team and staff have been working very diligently to put together an exciting year of programs and events," said Monica Walker. "We're really happy and excited we'll be able to celebrate with the community."
Walker is the human resources and administration director. Roughly 90+ full- and part-time employees work at the museum, and Walker also oversees the museum's largest volunteer group, the Leonardo League, made up of about 300 volunteers.
Walker also oversaw volunteer needs for this year's record-setting Oktoberfest celebration at the museum. About 2,000 volunteers support the fundraiser, which drew nearly 30,000 people to the museum's grounds.
This is also where the museum first partnered with BarryStaff.
"I've utilized a number of agencies over the years," Walker said. "BarryStaff was absolutely amazing. I couldn't have asked for better – from your own staff to the temporary employees you brought in."
BarryStaff is proud to partner with such a tremendous organization.
"We've had a lot of museum directors and curators visit The DAI, and they say we have a stunning collection," Walker said. "They say they don't know if Dayton truly realizes the breadth of collection we have here."
Click here to see a short video about the art institute.