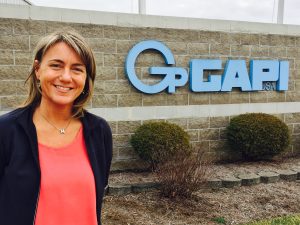 Learning curves are intimidating. No doubt about it.
"I'll have someone call up and need a three-eighths inch rod that specs to an ASTM D-1710," says Catherine Harlamert of Gapi USA Inc. in Clayton.
"I basically moved from jacket sales to high-molecular plastic and it's a totally different world," she said.
Indeed it is, but Harlamert caught on. Now her responsibilities are increasing and she may start traveling with a sales rep to meet distributors face-to-face. A trip to Italy may be in the works.
BarryStaff placed Harlamert at Gapi after she approached the company looking for a change. She knew she could do the job … if she kept the faith.
"It's really been one of the smoothest transitions I could have asked for," said the former salesperson of school jewelry and athletic wear.
Gapi is a manufacturer of custom molded polyurethane products. The company has a presence in many countries around the world.
In spite of its global status, what's impressed Harlamert the most has been the family atmosphere in Clayton. When new decor was needed for the walls, management took employees to Hobby Lobby to pick out pictures for decorating. Then they were treated to dinner.
"It's nice to see a company include the staff in these types of changes, it really shows how much the management respects the employees and wants to make sure they are happy and involved at work on all levels" she said.
The road ahead is bright for Harlamert. And she credits BarryStaff with giving her a nudge in a new direction.
"BarryStaff has been awesome," she said. "If I have any questions, my emails are always answered quickly.
"I wouldn't be here if not for Barrystaff," she said.
Click here to watch a short video featuring Catherine Harlamert.