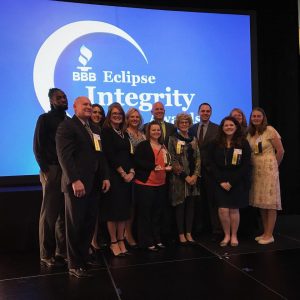 BARRYSTAFF is a 2017 Eclipse Integrity Award winner.
The longtime employment agency was honored May 9, 2017 at a gala in the David H. Ponitz Sinclair Center. The award recognizes organizations and individuals who demonstrate superior commitment to ethics and integrity in the marketplace.
BARRYSTAFF is the first staffing company to win the award.
"This is an incredible honor," BARRYSTAFF president Doug Barry said. "When my parents founded this company back in 1980, they founded it on integrity. This award means a lot."
Founder Pam Barry agreed.
"There were lean times in the beginning," she said. "To look at where BARRYSTAFF is today, it's just out of this world."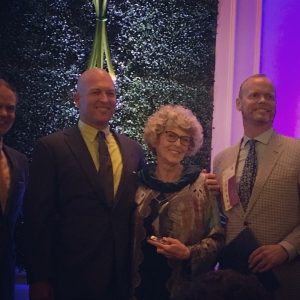 BARRYSTAFF seeks out and staffs employees for over a hundred companies in the Dayton region. Most of them are manufacturers, although BARRYSTAFF hires a high number of clerical employees as well.
The company prides itself on the ability to find quality employees of all varieties. Local employers have called on BARRYSTAFF to help them find architects, chemists and engineers. Whatever the request, BARRYSTAFF will deliver.
BARRYSTAFF took home the top prize for intermediate sized businesses (15-99 employees). Other winners included Solid Rock Roofing Inc., The Cakery, Marsh & McLennan Agency LLC, The Humane Society of Greater Dayton and Echoing Hills Village Inc.
"BARRYSTAFF has its finger on the pulse of the economic climate and workforce needs of our community," said Dayton BBB president and CEO John North. "For decades, they have operated with integrity as they prepared and matched workforce with Miami Valley businesses.
"Your BBB is proud to honor BARRYSTAFF as a 2017 Eclipse Integrity Award winner," he said.