BarryStaff Celebrates 1 Year in New Facility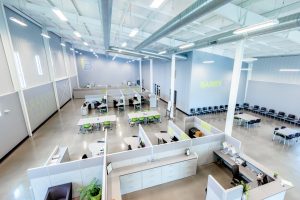 BarryStaff is pleased to announce a milestone in its commitment to the downtown Dayton area.
The company's brand new 13,000 square foot facility opened June 1, 2015 on Webster Street. One year later, BarryStaff continues to work with local companies to supply industrial, clerical and permanent job placements.
BarryStaff is also the only business in Dayton licensed to screen travelers for the TSA Pre-Check program.
Ground was broken on the new facility in December 2014. The 32-year-old business is proud of its downtown Dayton heritage, having operated from three other downtown locations since 1982.
"Our new facility has allowed us the space to better serve our applicants and expand our services to our clients," said President and CEO Doug Barry.
The Pam and Warren Barry Community Room also opened in 2015. To date, more than 50 businesses and organizations have requested to utilize the room for off-site retreats. With enough space for 80 people, white boards and an exquisite view of downtown Dayton, BarryStaff is proud to serve business professionals on its home turf.