BarryStaff Holds Successful Job Fair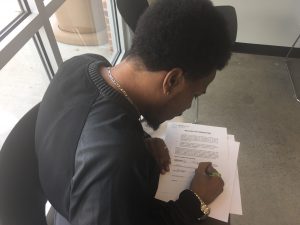 There were several unknowns.
BarryStaff opened its Springfield branch in 2015 and expectations for a job fair in mid-June were somewhat tempered. Did people know about the new office? If not, were they willing to find it?
There was nothing to worry about.
The job fair, held June 8, was more successful than BarryStaff ever imagined. More than 50 percent of the applicants interviewed were qualified to fill oft-needed positions at Clark County area companies.
One man, who said he saw advertisements for the job fair in the newspaper and on TV, said people are willing to do anything to work.
"I think (job fairs) are a good thing," he said. "There are a lot of people who need jobs and there are a lot of good workers who aren't working."
Roughly 25 people interviewed over the span of a few hours.
BarryStaff is currently in the midst of planning another job fair, this time at the company's headquarters in Dayton. Details will be released as plans are finalized.