If You're Sick, Stay Away From Work. If You Can't, Here Is What Doctors Advise.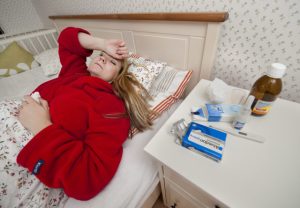 BY DANIEL VICTOR
The New York Times
When Elle Fraser, a business operations assistant for the New Jersey Devils, came down with the flu just before Thanksgiving last year, she didn't think about staying home from work.
The hockey team had home games on Wednesday and Friday that week, and she worried that her work would never get done without her, even if she had a 103-degree fever.
She toughed it out, alternating between chills and sweats, falling asleep at her desk, wiping down every surface she touched, and insisting to co-workers she was wearing mittens to handle tickets only because she was cold.
On that Wednesday, Ms. Fraser, 23, worked from 8 a.m. to 9 p.m. On Thanksgiving Day, she slept most of the day. The next day, she went back to work, just as sick as she was on Wednesday.
Sure, she technically had a choice to use a sick day and stay home, but that was not how she saw it. She thought she didn't really have a choice.
"Nobody tries to convince you to go home because they knew in that situation they'd be doing the same thing," she said.
Some people might read her account as a tribute to hard work and selflessness. Others might be aghast that she had risked exposing others to illness.
It's clear on which side doctors come down: They say workers with the flu or a cold should use sick days far more often than they do. Though millions of Americans don't get paid time off when they're sick, those who do have the option often don't take it.
"If it's bad enough that you're wondering if you should stay home, you should probably stay home," said Dr. Pritish K. Tosh, an infectious diseases researcher at the Mayo Clinic in Rochester, Minn.
When, and how long, should you stay home?
Remember: It's not just about you.
Even if you can battle the flu by enduring a miserable week, it can be deadly for others, especially pregnant women, young children and older people. And no matter how many precautions you take, there's no way to eliminate risk to people around you.
As a general rule, Dr. Tosh suggested people stay home until they are fever-free for 24 hours. He said he stayed out of work for three or four days the last time he had the flu.
"People can be infectious even before they start to have symptoms, but most of the time that they're going to be most infectious is going to be when they are sickest, especially if they're having fevers," he said.
Infectious germs are spread most frequently by airborne "respiratory droplets" from sneezing and coughing. The flu virus can last for up to 24 hours depending on the surface, Dr. Tosh said.
By coughing or sneezing into your hands, or wiping a runny nose, your hands can spread the germs to everything you touch — including surfaces many other people touch, such as door knobs, elevator buttons or shopping carts.
"You're never truly not contagious until all of those symptoms are resolved," said Dr. David Shih, executive vice president of strategy, health and innovation at CityMD, which runs a chain of urgent care centers in New Jersey, New York and Washington.
How can you limit the exposure to others?
Let's say you're ignoring the doctors and going out into the world anyway.
You're not alone: A CityMD survey in August found that 69 percent of Americans with the flu or flulike symptoms said they went to the drugstore or a pharmacy, 43 percent said they went to the grocery store and 39 percent said they went to work. Millennials (76 percent) were far more likely than those 35 or older (56 percent) to have left the house the last time they were sick.
Though you can't eliminate the risk of infecting others, there are steps you can take to minimize it:
• Get in the habit of coughing and sneezing into your elbow, not your hand. Children are being taught to cough like Dracula.
• Limit your interaction with other people as much as possible. If you're going to work, consider skipping nonessential meetings.
• Avoid physical contact with other people, especially shaking hands.
• Wipe surfaces down after touching them.
• Use hand sanitizer or wash your hands after coughing or sneezing.
• Wear a mask to limit the respiratory droplets.
• Take medication to reduce your symptoms.
Oh, by the way, get your flu shot.
What about people who don't have sick days?
Stay-at-home parents scoff at the idea of sick days, as do millions of other workers whose jobs don't offer paid time off.
"For people who are living paycheck to paycheck or have significant debt, the risks of staying home and losing pay or potentially losing their job are far too great," said Vicki Shabo, vice president for workplace policies and strategies at the National Partnership for Women and Families.
Low-income earners and part-time workers are especially likely to work while sick, including those at restaurants and hospitals. Ms. Shabo and advocates like her are pushing for laws mandating paid sick days, which are in place or will be soon in eight states, 30 cities and two counties.
"It's important from a public health perspective, and a workplace morale perspective, that people can take the time they need to recover," she said.